{C}{C}{C}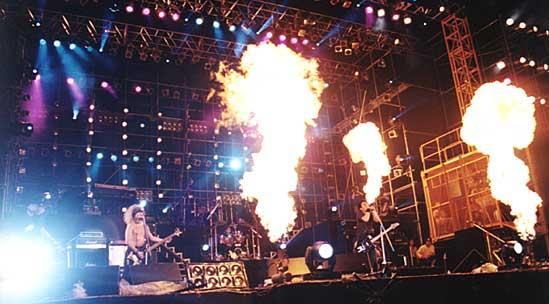 Formed in late 1986, Opposition Party started out as a bunch of social misfits expressing their rage at society and the world in general through punk rock. They took their cue from early UK hardcore/punk bands such as The Exploited, GBH, Chaos UK, Broken Bones, and many others from that era. History was made as Opposition Party attained notoriety as Singapore's first punk band.
Although the early years saw the pioneer Singapore punk band leaning towards the hardcore side of punk, the band adopted a more metallic edge as the 80's came to a close; Opposition Party's music became faster, heavier and louder (not that they were soft before!). In the 90's, their unrelenting blend of thrash-metal and hardcore punk, coupled with an "in-your-face" attitude, finally saw them emerge as a premier Singapore extreme metal outfit.
In the new millennium, Opposition Party has decided to reach back to the past to bring back the raw energy of hardcore punk, while letting the varied influences of each member shine through. From Crust to Death, many have tried to put a label on Opposition Party's music, but whatever it may be, the band has stayed true to their roots as they crafted a sound they can call their own.
Opposition Party has gone through several line-up changes in its illustrious history; however, the main stalwart has always been Francis Frightful, the original founder-member, who leads the band through each and every milestone.
Even way back in the 80s, Opposition Party thought out-of-the-box and started to make their presence seen overseas, very often being the first Singaporean band, by doing mini-tours and eventually playing in the UK, France, Malaysia, Thailand, Hong Kong and China and taking part in music festivals held in Europe, Taiwan, Korea and Thailand. They have shared the stage with Megadeth, Biohazard, Night Wish, Holy Moses, Power Trip, amongst other notable acts from different parts of the world. Currently, performances in other parts of the world are being planned. Opposition Party is regularly featured in regional and international releases, articles, and interviews and has made appearances on local and foreign TV/radio programs. The band's music also made its way into the soundtracks of documentaries and movies.
Despite limited live shows due to Covid-19, Opposition Party strives to bring their brand of Singapore thrash meets punk to the world.