SUBCULTURE PRODUCTIONS presents: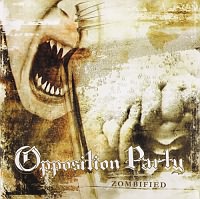 Zombified (CD, 2006)
Track List:
1. Zombie

2. Taking Us For Fools

3. Ignorance

4. Brain Fucked

5. Control Your Mind

6. Ever Wonder Why

7. It's Chaos

8. Because

9. Not the Way To Live

10. Land of Hope And Glory

11. As Good As Dead

TERRORIZER MAGAZINE 7.5/10
SOD Magazine #22 GRADE: 10 Fucking Skulls
Remember Sacred Reich, the killer 80's Thrash Metal outfit that combined political diatribes with brain-melting Thrash Metal riffs? Well, welcome to the chaos-driven world of Opposition Party, where outrage has a voice and that voice is fucking pissed-off. Combining elements of Hardcore and Thrash Metal with a jolting clarity of vision, Opposition Party has managed to craft a sound that is as unique as it is powerful and explosive. There's even a track entitled "Ignorance" which may or may not be a tip of the hat to the aforementioned Sacred Reich. One of the most enjoyable and punishing Thrash Metal albums I've heard in years, Zombified fucking KILLS!!! (David Horn)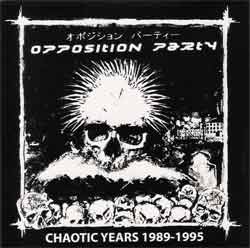 Chaotic Years 1989-1995 (CD, 2005) Years


Track List:



Brain Fucked / Zombie / Ignorance / Taking Us For Fools
(Taken from Brain Fucked, 7" EP, 1992)

No Leaders, No Authority / It's Our Lives / Wasted My Life / Intolerance / Shittin' Death
(Taken from It's Our Lives, Cassette Album, 1990)

Kick 'em Out / Murder Is Ordained / Child's Game / Nightmare Visions
(Taken from Nightmare Visions, Cassette Album, 1991)

Point Of No Return / Suicide Bound
(Unreleased Tracks)

Dance Of Fire / Impending Death / Garden Of Stone / Lonely Realm
(Taken from Reborn, Cassette Album, 1995)


The best & the rest of the band's early years, only available previously on vinyl, cassettes and various compilations, now available on cd!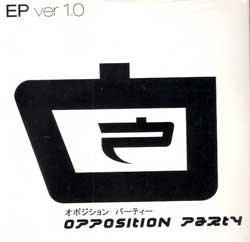 EP ver 1.0 (CD, 2000)



Track List:


1. Hack N Slash

2. Rapture of Hypocrisy


3. Zombie (Live)

4. Point of No Return (Live)


Bonus Track:
5. Baka Uta

This is Opposition Party's out-of-print EP Ver.1.0. A limited edition 5-track collection of previously unreleased material,
this is a must-have for all fans of the band!

Limited Edition Tee's
< Chaotic Years >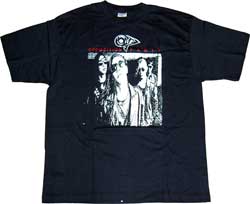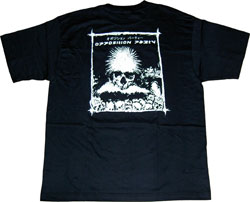 < Jack Hack Is Back! >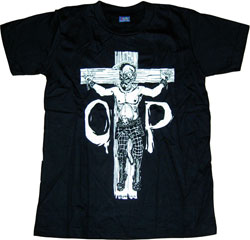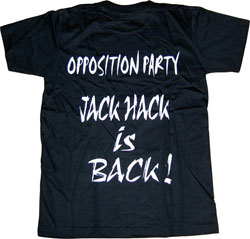 Opposition Party merchandise are available on bandcamp and in selected shops.
Grab these goodies and more from: